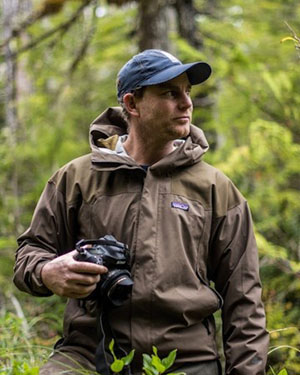 Ian
McAllister
BRITISH COLUMBIA, CANADA
The director and filmmaker of the Great Bear Rainforest IMAX film, Ian is a leading Canadian advocate for coastal rainforest and marine protection. Ian is Co-founder and Executive Director of Pacific Wild, he is an international award-winning photographer, and author of numerous books. His images have appeared in publications around the world.
He is a member of the International League of Conservation Photographers and  a recipient of the North America Nature Photography Association's Vision Award and the Rainforest Action Network's Rainforest Hero award.
 He and his wife, Karen, were named by Time magazine amongst "Leaders of the 21st Century" for their efforts to protect British Columbia's endangered rainforest.
He lives with his family on an island in the heart of the Great Bear Rainforest. 
100% of the royalties from sales of Ian McAllister's work are donated to Pacific Wild's efforts conserving the wildlife and habitat of the Great Bear Rainforest. To learn more, please visit pacificwild.org